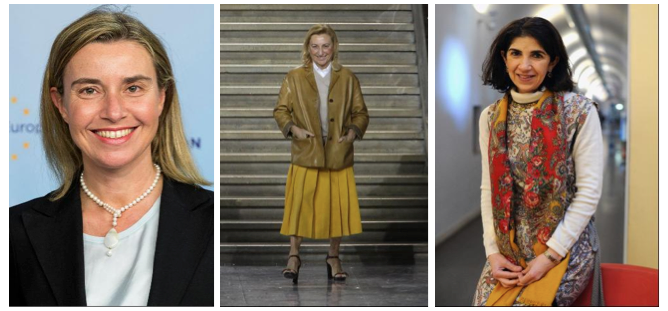 Last month Forbes released its list for the 100 most powerful women in the world. Among the German chancellor, Angela Merkel, and 2016 American presidential candidate, Hillary Clinton, are Italy's Federica Mogherini, Miuccia Prada and Fabiola Gianotti.
Federica Mogherini (41), the Minister of Foreign Affairs, is ranked 36th on the list. The Roman native was elected to the Chamber of Deputies in 2008 and re-elected in 2013. She also served as the Italian delegate for the Parliamentary Assembly of the Council of Europe. Now, as the foreign minister for the European Union, she represents Bruxelles about issues concerning Iran's nuclear power program and the crisis in Ukraine.
Placing 79th on the list is one of the world's fashion's leaders, Miuccia Prada (66). She is the co-CEO of Prada, a fashion company founded in 1913 in Milan by her grandfather. In 1977, Miuccia and her two siblings, Albert and Marina, inherited the business. She is also ranked 405th in Forbes World's Billionaires list for 2015 with a net worth of 3.8 billion.
The first female director-general for CERN, Fabiola Gianotti (54), is positioned at 83. She joined the nuclear research organization in 1987 and is mostly known for her leadership on the ATLAS program, the project that discovered the Higgs Boson. The scientific breakthrough in 2012 is nicknamed the "God Particle" and explains the reasoning behind objects and their mass. She and five other members of the team were awarded the Fundamental Physics Special Breakthrough Prize in 2013. She serves as director-general beginning January 2016.
-Meki Shewangizaw