The 2,730 square yards of fresco that makeup perhaps the most famous example of western art history now offers a more brilliant view than has ever been possible before. This week the Vatican Museum unveiled an innovative new lighting system as well as a new air exchange system that will combat the pollution produced by the 6 million annual visitors. The drastic improvement allow visitors to gaze upon the landmark works of Michelangelo, Pinturicchio, Botticelli, Ghirlandaio and other great artists in all their in the luminescent glory that was originally intended.
Italian art critic Helga Marsala says the improvements are, "like a mantle of stars embracing the Chapel." Years of criticism and slow improvement have marred the modern history of the Sistine Chapel as a historical site. For the past three years, the Vatican laboratories have been working with the top conservation experts and engineers across Europe to create the innovative new lighting system, meant to reveal to the audience the beautiful subtleties and nuanced details that Michelangelo himself would have seen.
It is no secret that the Sistine Chapel has long been endangered. In the past twenty years, annual visitors have more than doubled, rising from under three million to more than six million every year. The Chapel is entirely enclosed, trapping the air pollution of up to 2,000 visitors an hour—breath, dust, sweat—inside its walls. In 1994, a new air conditioning system was installed, but it quickly became outdated and overwhelmed. In the fact, the main spotlights added more head to the room, and the pollution problem only continued, making this upgrade even more of a necessity.
Beyond the protective elements, the brand new lighting system and air exchange system will be appreciated by visitors for decades to come for an entirely different reason: the view. The illumination allows for a clearer view than has ever been possible in the Chapel's 500 year history. Some parts of the wall frescoes, like the lower paintings, have never been illuminated until now.
The director of the Vatican Museums, Antonio Paolucci, says, "The challenge has been to calculate an air conditioning system that cleans the air of dust but does not blow directly upon the painted surfaces…to achieve this we had to work with the fluid dynamics of air." The process of creating this new system was an international venture, involving the Pannonia University in Hungary, the Catalonian Energy Research Institute in Spain, and Fabertechnica Studio of Lighting Design in Italy. OSRAM, a German manufacturer, was responsible for installing 7,000 LED lights in invisible clusters. According to the company, the benefits of this installation include reduction of energy consumption by up to 60% and the elimination of heat emissions from both ultraviolet and infrared rays. Engineer Roberto Barbieri says, "This new system takes the stress off the paintings."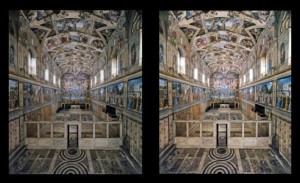 Professor Paolucci, Director of the Vatican Museums, feels it is important to maintain the spiritual significance of the innovations. According to Paolucci, the advantages of the technological updates is the access they extend to more people of faith from across the world to see the Sistine Chapel the way it is meant to be seen, for decades to come. He says, "The Sistine Chapel is sacred to Catholics all over the world…They cannot be excluded when they come to Rome."